While bear markets continue to be a reality within investing, their occurrence is always alarming.
Investors are interested in the opportunity to buy stocks amid the turbulence that is associated with COVID-19. For those who have spare cash to invest, there are looking at stock prices and potential companies. For those who are facing financial difficulties, they should focus on clearing their debts or getting financial help.
It is essential to find out what you should purchase now, the amount of cash you should set aside and the winning stocks when the pandemic is a page in the world's history of events.
Investing is ideally a long-term undertaking. No one can be completely aware of whether the market will go up or down in the future, but investors can rest assured that they will get rewarded in the long run. With knowledge regarding the fundamentals of investing, you can move forward to the realities of the stock market and making your first investment.
Opening Your CDP Account In Singapore
You are required to open a CDP account before opening a brokerage account. CDP stands for Central Depository Account. This account serves the purpose of securing the shares that you buy via the open market. CDP is run by the Singapore Stock Exchange (SGX), which means that the CDP is safe that you use to keep your stocks safe.
The bonds and stocks that you purchase on the stock exchange get deposited into your CDP account.
Opening Your Brokerage Account In Singapore
You need a brokerage account when you plan to make your first investment in stock. This type of account enables you to purchase and sell investments, primarily stocks, REITs, ETFs and particular bonds.
Brokerage accounts serve as intermediate platforms that enable people to invest through them. Both a brokerage and CDP account are required in Singapore when you want to do that. The following is a useful step by step guide for the process.
Opening The Brokerage Account
First, you need to have an account with a local bank
Fill an application form
Provide the required documents
You also have the option of applying through a brokerage firm
Local Bank Account
You require an account with one of these banks in Singapore when opening a personal CP account:
UOB
Standard Chartered Bank
OCBC
HSBC
Maybank
DBS/POSB
Citibank
It is important to note that you should be a minimum of 18 years old, and you cannot move to the next step as an undischarged bankrupt.
Application Form
The process of opening a CDP account is faster, thanks to a more efficient method. It involves opening an account online and being able to get it handled within a few minutes. Going digital has made it much easier to access the opening service for a CDP account.
Investors who want to open a CDP account individually can simply apply and submit applications conveniently online. You can apply for an account and receive it in 15 minutes.
Investors who have accounts with the local banks listed can fill the application form online.
Everything has become more convenient and timelier as you can open an account online by using a form that is available online.
Documents You Need To Prepare
Before taking the plunge and filling in all the information required in the application form, make sure that you have all the pertinent documents.
The following is a set of required documentation when you want to open a CDP account:
Your passport/ NRIC
One of these documents dated within the most recent three months
Most recent Income tax Notice of Assessment
Central Provident Fund statement
Bank statement from a licensed bank as stipulated by the Monetary Authority of Singapore
Bank account in Singapore
Scanned or photographed copy of your signature
Tax Identification Number as per region or country of tax residency outside Singapore
Tax Identification Number
Form-W9 duly completed
When applying through a broker, the documents that are required are the following:
Photocopy of passport/Malaysia ID card/ Singapore Police Force ID card/ Singapore Armed Force ID card/NRIC.
Applying Through Brokerage Firms/Mail
Several brokerage firms within Singapore are capable of helping you apply for a CDP account when you open a brokerage account. The following brokerages can assist:
UOB Kay Hian
RHB Securities Singapore
Phillip Capital
OCBC Securities
Maybank Kim Eng
Lim & Tan Securities
KGI Securities
CIMB Securities
iFAST Singapore
DBS Vickers Securities
Applying Through Mail
You have the option of applying for a CDP account via mail by sending an application form signed along with supporting documents to the official address provided for this purpose. You can also visit the SGX customer service department that operates from Monday to Saturday. After sending the application form by mail or going to SGX, you can take the next step towards setting up an account with the brokerage firm of your choice and begin investing.
Aspects To Consider When Choosing A Brokerage
Your brokerage will be charging you trading fees.
Several factors are worth keeping in mind during the process of picking a suitable brokerage.
Market Access – Market access to other exchanges is an essential factor for any investor who seeks foreign exchange investments.
Comparing Commission/ Trading Fees (Online)
| Brokerage | Minimum Fees | Trading Fees according to the Contract amount | Trading Fees according to the Contract amount | Trading Fees according to the Contract amount |
| --- | --- | --- | --- | --- |
| | | $50,000 | $50,000-$100,000 | $100,000 |
| | | CDP | | |
| KGI Securities | $25 | 0.27% | 0.22% | 0.18% |
| DBS Vickers | $25 | 0.28% | 0.22% | 0.18% |
| Maybank Kim Eng | $25 | 0.27% | 0.22% | 0.18% |
| Lim $ Tan Securities | $25 | 0.28% | 0.22% | 0.18% |
| Phillips Securities | $25 | 0.28% | 0.22% | 0.18% |
| OCBC Securities | $25 | 0.27% | 0.22% | 0.18% |
| UOB Kay Hian | $25 | 0.27% | 0.22% | 0.22% |
| RHB Securities | $25 | 0.27% | 0.22% | 0.18% |
| CGS CIMB Securities | $25 | 0.27% | 0.22% | 0.18% |
| | | Custodian | | |
| FSMOne.com | $10 | 0.08% | 0.08% | 0.08% |
| Citibank | $10 | 0.25% | 0.20% | 0.18% |
| Standard Chartered | $10 | 0.20% | 0.20% | 0.20% |
| Saxo Capital Markets | $9 to $15 | 0.10% to 0.12% | 0.10% to 0.12% | 0.10% to 0.12% |

Comparing Commission/Trading Fees (Broker Assisted)
| Brokerages | Minimum Fees | Trading Fees according to the Contract Amount | Trading Fees according to the Contract amount | Trading Fees according to the Contract amount |
| --- | --- | --- | --- | --- |
| | | $50,000 | $50,000 to $100,000 | $100,000 |
| KGI Securities | $40 | 0.50% | 0.40% | 0.25% |
| CGS CIMB Securities | $40 | 0.38% | 0.40% | 0.25% |
| Citibank | $40 | 0.50% | 0.50% | 0.40% |
| DBS Vickers | $40 | 0.50% | 0.40% | 0.22% |
| Maybank Kim Eng | $40 | 0.50% | 0.40% | 0.25% |
| Lim & Tan Securities | $40 | 0.50% | 0.40% | 0.25% |
| Phillips Securities | $40 | 0.50% | 0.40% | 0.25% |
| OCBC Securities | $40 | 0.50% | 0.40% | 0.25% |
| RHB Securities | $40 | 0.50% | 0.40% | 0.25% |
Comparing Commission/Trading Fees (Cash Upfront)
| Stock Brokerage | Minimum Fees | Trading Fees |
| --- | --- | --- |
| KGI Connex | $25 | 0.18% |
| CGS CIMB Securities | $18 | 0.18% |
| DBS Vickers | $10 | 0.12% |
| Lim & Tan Securities | $12 | 0.12% |
| Maybank Kim Eng | $10 | 0.12% |
| Phillips Securities | $10 | 0.12% |
| OCBC Securities | $18 | 0.18% |
| UOB Kay Hian | $10 | 0.12% |
| FSMOne.com | $10 | 0.08% |
Trading Benefits And Why You Might Want To Start
As soon as your CDP account gets set up, you can start transacting on SGX. Several benefits can emerge from trading on SGX, including the following:
Gains – Being an investor gives you the chance to grow your money. Stocks that rise in value make profits for people who invest in them. It is advisable to invest in a variety of sectors to build investment while leveraging growth within a range of industries.
Dividends – The dividend usually gets paid out when a company makes a profit in the year whether or not the stocks increased in value within the market This is why is essential to invest in a profitable business that enables you to earn income from dividends.
Sensible Investing – Investing in stocks is among the investment options that smart investors consider. It gives you the advantage of diversification in case you suffer a loss in other types of investments as you will enjoy gains in other areas.
An additional source of income – You can gain another source of income when you trade on the stock exchange. This type of income offers the advantage of providing you with passive income rather than a job that requires you to work on a fulltime basis.
A broker can assist you with the transactions while you handle another job. There can be substantial profits from buying and selling stocks, which are based on the prices as they change. This additional income can be useful for paying off some debts and dealing with financial emergencies that come up.
Building an investment portfolio – Trading on SGX can give you several opportunities to purchase different company shares. It broadens your investments and also makes it possible for you to spread out the risks of investments. If one company does not perform well, you have other numerous options.
Unlimited prospects for gain – Unlike a regular job with a typically fixed income, trading in stocks consists of limitless investments that come with endless potential for making profits. It means that trading on SGX gives you access to more resources.
Decision making – Becoming a shareholder means that you join the team that makes decisions. You will be relied on as a shareholder to provide your input regarding the company's management strategies along with participating in the voting process. You get a chance to speak and enjoy the fulfilment of being an owner.
Liquidity – Stocks are usually liquid because it is easy to convert them into cash. It offers the benefit of including them in your income and assets when you want to apply for a loan. Having a CDP account gives you access to several opportunities that come with SGX.
Start Trading When You Are Ready
You do not have to be overwhelmed or intimidated by the complexities of investment jargon and financial concepts when you want to begin investing. Learning these factors is a part of the process that all investors go through.
You can develop your knowledge systematically by consulting family members and friends who have been investing, reading more and exploring the markets. Read widely and look at financial blogs who often update readers about the latest financial news. The Fifth Person is a good website to refer to.
To begin investing in listed securities and companies on the Singapore Exchange, you need to open a CDP account. CPD accounts include individual accounts, joint accounts and corporate accounts. Personal ones are the most common types of CDP accounts that retail or individual investors use.
A CDP account enables you to manage and view the investments that you make. Each investor is entitled to one direct CDP account. Many brokers within Singapore provide custodian accounts that consist of them taking over the responsibility of storing investments when transactions get completed. One of the advantages of this option is relatively lower fees.
When you set up an account with a securities broking firm that you prefer, you will get linked to your account. With a successfully connected trading account, you can start trading. It is essential to invest in products that you understand.
Using Your Trading Account
You have probably encouraged to start investing to make sure you retire comfortably at a favourable age. Whether it involves trading on stocks or savings bonds, you need a CDP account to move forward. It is a critical first step towards beginning your journey in investing.
Once you have the CDP account, you should link it to a brokerage account. Brokers provide platforms required for trading. A CDP account gets used for free, but you may have to pay the brokerage trading or administrative fees.
The platform that a broker provides enables you to do the following things with your account:
Buying and selling stocks and other securities
Buying more shares at fixed prices by capitalising on rights issues
Attending AGMs and voting at the companies that you hold shares in
Key Considerations When Investing In Singapore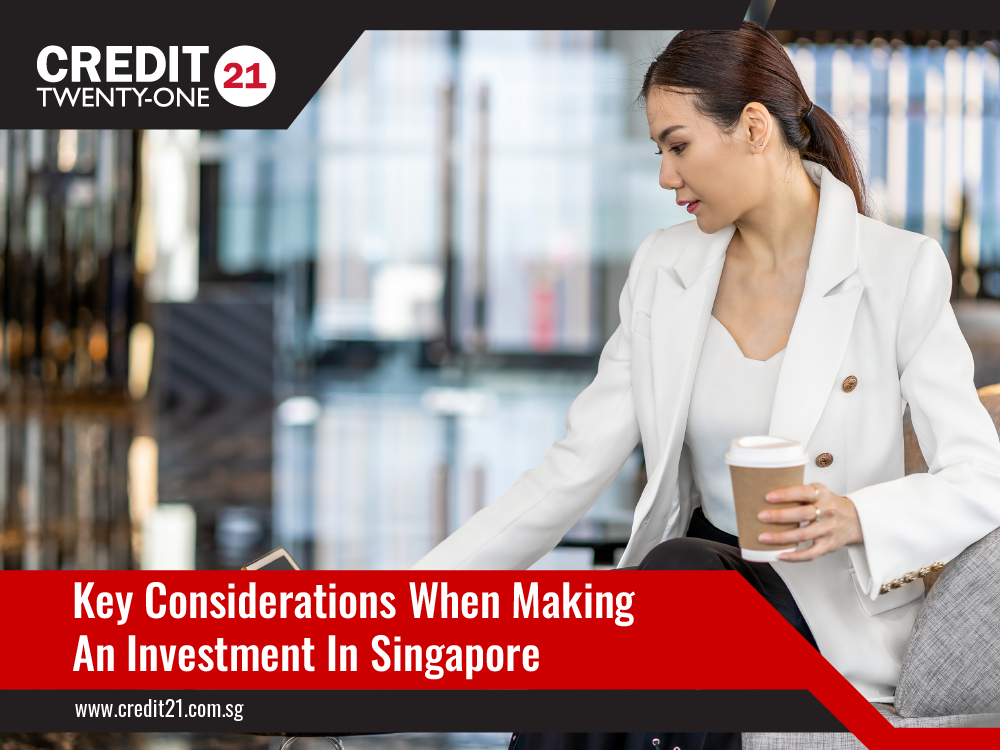 Many people are thinking about making their first investment. The high cost of living and inflation has compelled consumers to spend more. For some Singaporeans and PRs, they might even be struggling with daily expenses. For cases as such, they can apply for a short-term installment loan to help tide through tough times.
Nonetheless, this makes it necessary to consider other ways to earn extra money. It is not unusual for beginners to feel intimated by the complicated concepts that are associated with investments when they think about investing in bonds and stocks, especially if they are not familiar with the financial sector.
However, it is possible to become acquainted with investments over time as you continue to engage with brokers and the market. Being aware of what the markets entail is the knowledge that you build step by step, and you usually have to participate before you can learn actively. Investors are required to open a CDP account in Singapore to start investing in stocks. If you do not have a central depository account, you cannot trade in Singapore's exchange.
For companies incorporated within Singapore, only investors who hold shares in a company and have the required CDP account that list them as the Companies Act recognises shareholders. If you are not keen to invest in stocks because of its volatility, you can consider investing in gold. For some investors, they purchase UOB gold to expand their investment portfolios.