Hotel? Trivago.
Furniture? Ikea.
Most of us would probably be looking to get our home furniture from IKEA since it's the most convenient and popular option.
However, for some of us who don't wish for our apartments to mimic the overused Ikea look, you've come to the right place!
From luxurious design to nautical themes and modern industrial decors, we found the most exciting ideas on the market to spare you the research.
The quest to find the right HDB renovation ideas and styles begins here!
1. The Right Focal Points 
(Source: Qanvast)
(Source: Qanvast)
(Source: Qanvast)
This Telok Blangah Heights apartment designed by Stylemyspace is the perfect example of how you can hide the clutter and brighten your apartment.
The pieces of art and colourful pillows create focal points and a sense of optimism. The rooms are brightened with mirrors and expansive windows that allow plenty of natural light, while the garland-style lighting makes the apartment seem cosy.
Besides, there isn't any clutter anywhere because the wardrobes and cabinets mask your belongings carefully.
Cost: $57,000
2. Opulence
(Source: Qanvast)
(Source: Qanvast)
(Source: Qanvast)
If you love all things grand and luxurious, this design is right up your alley. This Yishun Ring Road flat designed by Livspace is the picture of classical opulence that transports you in the time of European Renaissance.
The flowing curtains, laced table covers, and tufted furniture invite you to spend hours relaxing. The furry pillows are a unique touch, caressing your skin and attracting your gaze.
Even the small balcony is decorated with plush pillows, while the white kitchen sparks cleanliness. 
The bedroom keeps the same creamy-white, foamy richness created through the plus beds, curtains, and candelabra. 
Cost: $56,000
3. Rustic Elegance
(Source: Qanvast)
(Source: Qanvast)
(Source: Qanvast)
Natural, casual and earthy. Does this resonate with you?
This Circuit Road HDB flat designed by Thom Signature Design offers a cosy home that resembles a vintage ranch house. 
All the furniture seem to be made of wood and brick, while the neutral brown-grey colour palette creates an intimate environment.
It is clear that the interior designer paid attention to elements like the hanging plants, the wall map, and the quilted table cover on which you can notice an elegant tea set. Additionally, these elements enhance the effect of colour choices and furniture materials.
The warm, yellow lights are equally significant in rounding this welcoming atmosphere, while the green plants' corner refreshes the apartment.
An interesting thing is how the colour contrast between the living room and the marine-coloured kitchen splits the space into two functional areas. However, the brick / wood applied to some of the kitchen elements creates a cohesive link to the rustic principle of decor. 
In the bathroom, the gold-tinted appliances, geometrical mirror, and petite plants keep the same pastoral line of elegance. 
Cost: $45,000
4. Club-like Appearance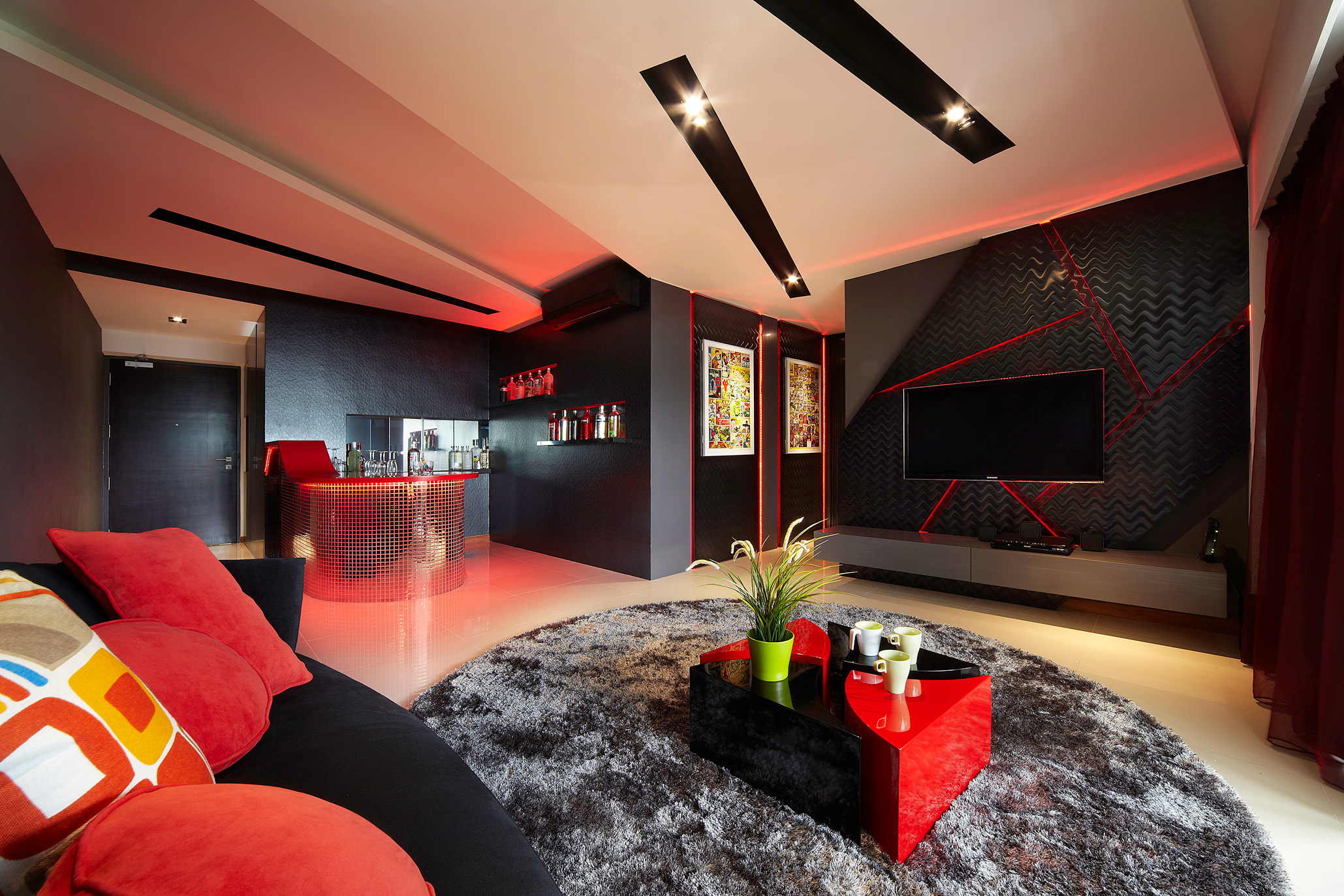 (Source: Free Space Intent)
(Source: Free Space Intent)
(Source: Free Space Intent)
COVID-19 has caused clubs to temporarily close? Not a problem. You can now turn your very own home into a club!
This five-room flat in Simei Lane renovated by Free Space Intent is a unique blend of boutique and club features for out-of-the-box people. 
The mix of red and black colours creates a Moulin Rouge-like atmosphere that helps to unwind faster.
Illumination and geometrical patterns play an essential role in creating a contrasting, edgy feel to the apartment. Notice how the red light lines on the living room's walls resemble lighting to emphasise a vibrant atmosphere. 
That's true of all broken lines inside the apartment.
Conversely, round shapes like that of the sofa, carpet, chairs, and counter, create a trippy feeling in combination with the edgy corners.
The bedroom looks lavish with its chocolate nuances and tufted furniture. Besides, the lack of natural light and wide mirror creates a sensual atmosphere.
By contrast, the red-and-white home office blends vintage and futuristic touches: the Coca-Cola ads, comic strip painting and small TV contrast with the shiny furniture and ceiling fan. 
Cost: $60,000-70,000
5. De Luxe Wooden Home
(Source: Qanvast)
(Source: Qanvast)
(Source: Qanvast)
This HDB flat on Ang Mo Kio Avenue 3 designed by New Chapter Design looks like the digs of a movie star. The glowing acorns, the dog with a tray in its mouth or the half-woman, half-lamp tilted against the wall will impress all your guests. 
The atmosphere is dark and smokey thanks to the wooden carpentry, mellow lighting and plush furniture.
The contrast of lines and shapes creates various focal points and a sense of luxury. As such, the corner shapes on the living room walls behind the TV and the crown-shaped pillow contrast with the oval rug and wall clock.
This contraposition of shapes gives an edgy appearance to this home.
In the kitchen, the array of trinkets and spice containers makes you feel like you're enjoying lunch at a posh restaurant, whereas the bedrooms look plush and inviting.
Who knew HDBs in Singapore could look like that!
Cost: $42,000
6. Cabin Boat
(Source: D5 Studio Image)
(Source: D5 Studio Image)
(Source: D5 Studio Image)
Imagine living in a home modelled to look a cruise. That's exactly what these homeowners did. Their 5-room HDB flat in New Upper Changi Road got a maritime makeover by D5 Studio Image. 
The rooms look like a boat hull thanks to their round walls and wooden finishes. Even the bed duvet has a rich brown colour that reminds you of a cabin boat's design.
By contrast, the large window and comfortable bed feel luxurious and inviting.
The sea photos and visual effects emphasise the maritime theme. The most significant impact is noticed near the coffee table, where the expansive glass windows project sea waves crashing near you.
The wooden tables, seats, and tree-like feature enhance the at-sea effect. Even the narrow living room and second bedroom have a semi-claustrophobic impact similar to that of a boat hull.
Cost: $65,000
7. Modern Industrial Décor
(Source: Edge Interior)
(Source: Edge Interior)
(Source: Edge Interior)
This is a design that you'll either like or dislike.
This 4-room flat in Jelapang was remodelled by Edge Interior to create rugged vibes. This apartment was designed to look vibrant and metallic, with industrial touches in the form of exposed pipes and metal decorations. 
The black lights, sharp corners, and dark colours of the furniture and walls enhance this industrial-like feeling.
Therefore, this whole apartment creates a feeling of angst that suits edgy people.
The only respite from this general sensation is the living room hanging chair. This bubble chair is beige and padded with a plush, white pillow so that you can feel comfortable.
Otherwise, the kitchen looks like a jagged hipster café, and even the bedroom looks angular and metallic.
Cost: $75,000
8. Flowers And Ornamentations 
(Source: Qanvast)
(Source: Qanvast)
(Source: Qanvast)
Are you all for oriental and peranakan-ish designs?
This Moh Guan Terrace flat designed by The Interior Lab blends 1920s American-style furniture with rich colours, furniture, and flowers.
The happy vibes you sense here are the result of bright nuances and heavy embellishments. Every room is filled with flowers of all kinds, and even the pillow covers are flowery.
Furthermore, the ceiling lamps and wide windows create a well-lit apartment that combines well with the flowery theme.
Although this apartment can seem cluttered compared to others, the ornate style creates a genuinely homey atmosphere.
By contrast, the bedroom looks like an oasis of tranquillity thanks to the white colour palette and lack of hotchpotch. 
Cost: $55,000
9. Japanese-style 
(Source: Le Bleu Art)
(Source: Le Bleu Art)
(Source: Le Bleu Art)
Who said smaller flats can't look as good?
This 2-room flat in Clementi designed by Le Bleu Art sports a minimalist Muji theme that's very popular. This apartment design is inspired by Japanese décor, which is evident from the beige colours, choice of decorations, and furniture placement.
The tatami table and the bamboo blinds contribute to creating an oriental design.
Even the spacious kitchen reminds you of Japanese designs. Although this is a two-room apartment, the designer team optimised the existing space by installing glass partitions. Therefore, the rooms are separated without creating a sense of claustrophobia. 
Cost: $49,000
10. Pop-art theme
(Source: Erstudio)
(Source: Erstudio)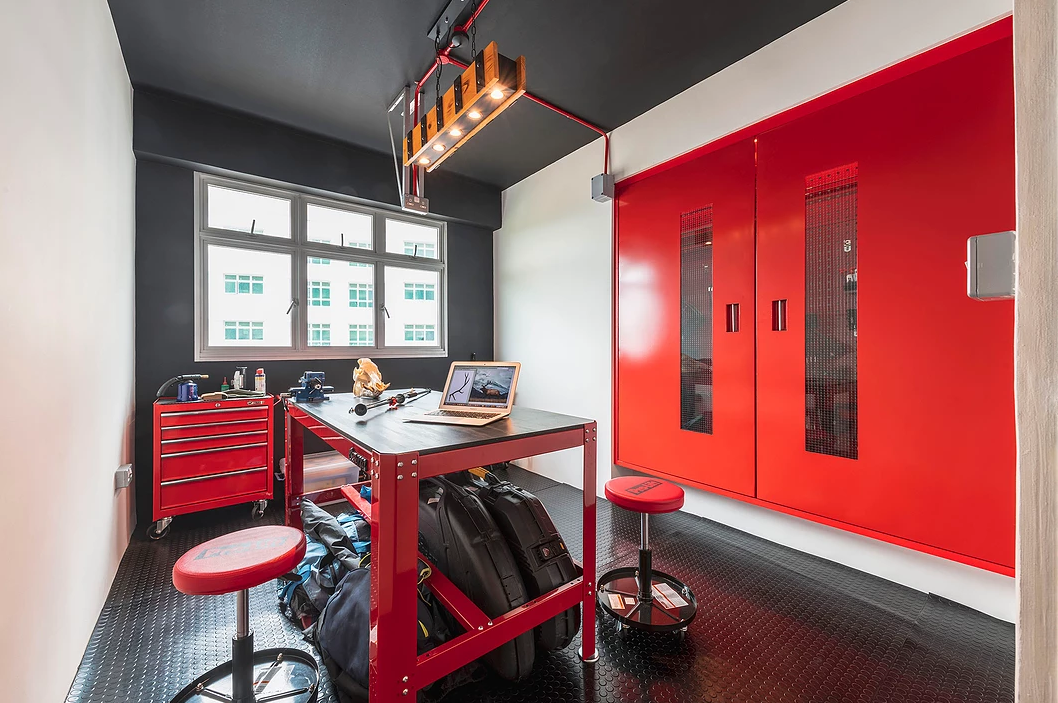 (Source: Erstudio)
If you're one to stray from the norm, this renovation idea might just work for you!
This 3-room flat in Canberra Street designed by Erstudio looks like a true hipsters' home thanks to its intentionally unfinished look.
The cement walls and floor combine with the visible electrical conduits and wooden spice racks with visible nails to create a rugged environment. Moreover, black curtains and vibrant pink lights contribute to this intense atmosphere. 
Other unusual décor choices include the shoe storage cement-like cylinders, the graffiti-like paintings, and the yellow, chipped metal chairs.
Besides, the widescreen projector that replaces the usual home TV is another sign that this apartment is perfect for a millennial. 
Cost: $70,000
Using The Right Home Renovation Loan To Fund Your Dream Home
With the aforementioned renovation ideas and styles comes a huge price tag. Some of us might not have the financial capability to fund such a large purchase.
This is where a home renovation loan from Credit 21 can come in extremely handy. We'll provide you with some of the best interest rates, along with affordable monthly repayments. This way, you can focus on building your dream home, all while making comfortable monthly repayments.
Unlock the funds needed to build your dream home today!