Everyone has that feeling of anxiety when a critical emergency arises, and you cannot afford to pay for it. From an unexpected surgery at the hospital to a car accident that needs repairs immediately, you are worried about where the money will get sourced.
Imagine the stress and panic you will feel when you need money urgently. You might need cash for a medical emergency, a car emergency, a business emergency, or simply money to get you through until the next payday.
Fortunately, options for urgent loans are available. You will have access to quick cash and transform a devastating problem into a minor inconvenience that you can handle easily.
What Is An Urgent Loan?
An urgent loan functions in a similar manner to a personal loan. However, due to their time-sensitive nature, urgent loans will be processed faster and you will be able to receive the funds quicker as well.
An urgent loan is an unsecured, short-term fast cash loan that you can easily access when you run into a financial emergency. During these times, having convenient access to funds is extremely important. This is where an urgent loan can step in and provide you with the necessary financial help. Upon loan approval, you will be able to receive your funds almost immediately, allowing you to swiftly solve your financial emergencies.
Why Should You Consider An Urgent Loan?
Things happen in life, and there are times when you need an urgent loan on the same day.
An emergency can occur out of the blue, and more often than not, it requires financial attention immediately. In a financial crisis, rather than accumulating interest on credit for unforeseen expenses, you can apply for an urgent loan quickly and get the cash you need.
It can be very challenging to get your loan approved these days in Singapore. For example, there is a lot of paperwork to be done if you are applying for a loan from a bank.
They generally have a longer application process and are more stringent in their credit checks.
If you are caught in a financial emergency and you have a shortage of funds with nothing to consume until payday, an urgent loan is an excellent decision for you and your family.
How Does An Urgent Loan Work?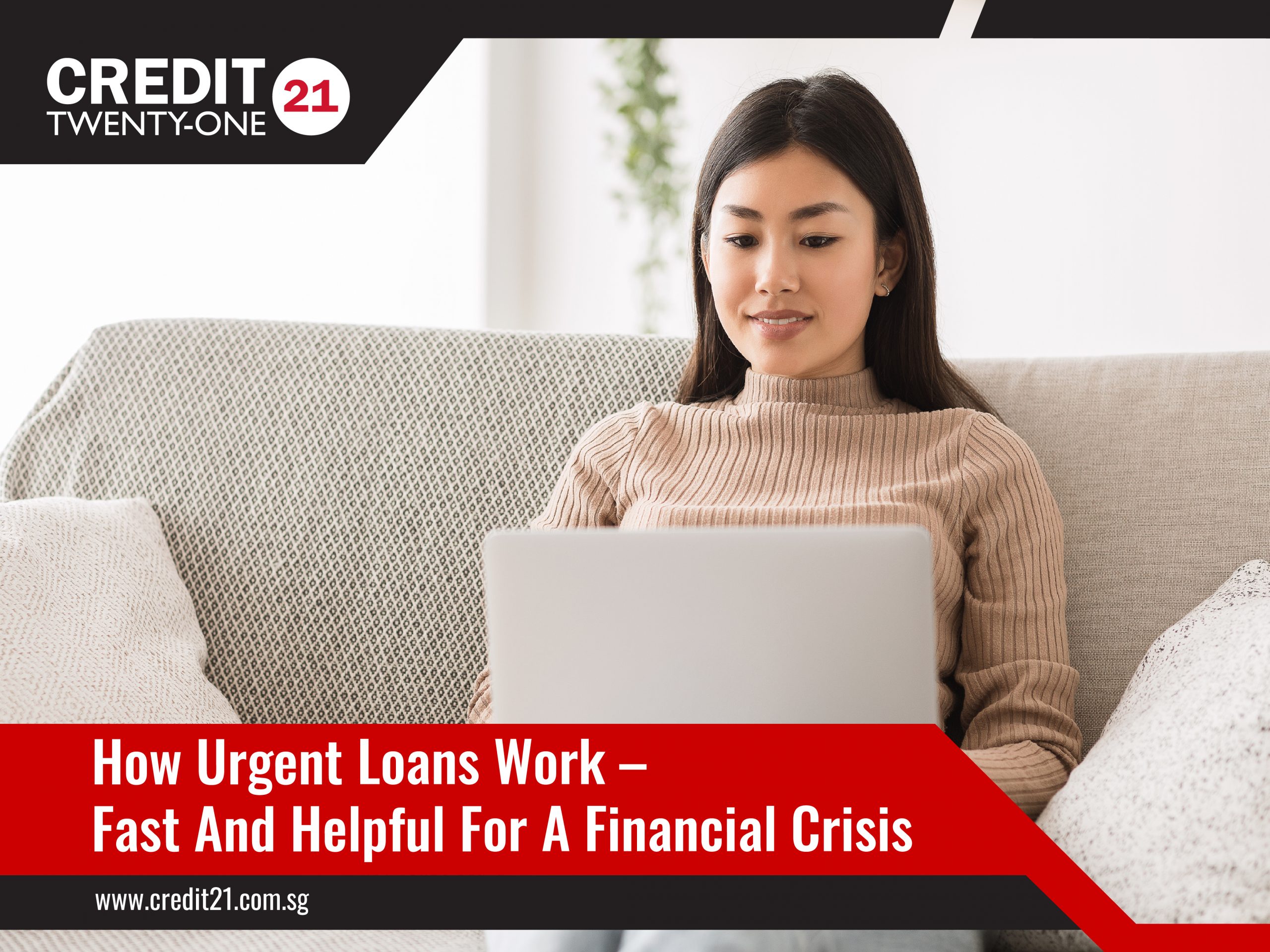 Various licensed moneylenders in Singapore strive to offer fast and quality services. They are legal and licensed by the Ministry of Law. Rather than seeing them as loan sharks who hang pig heads on doors, they are actually an alternative to banks in Singapore. They offer another solution to borrowers who need money urgently.
Licensed moneylenders like Credit 21 offers urgent cash loans to those seeking swift financial help. We are more lenient with our loan approvals and try to help our customers as much as we can.
Here are a few different scenarios that may require an urgent loan in Singapore.
1. You find yourself caught in a medical emergency.
Medical emergencies are unpredictable. When it happens, medical assistance needs to be rendered immediately. However, the cost of medical treatments does not come cheap and can easily run into thousands of dollars. While you might not have enough saved up, an urgent loan can prove to be a huge financial relief.
2. You need to pay your utility bills and rent the following week.
You have not received your paycheck yet, and your bad credit status prevents you from getting a bank loan. It is a distressing situation because you want to keep your lights on and appliances running so that your family is safe. Everything falls apart at the same time, and a loan is required to get cash fast and deal effectively with these emergencies.
We all want the best for our family. An alternative such as a licensed money lender like Credit 21 will not hold your poor credit history or past against you.
What Are The Advantages Of Applying For An Urgent Loan
Compared to personal loans from banks with a longer approval time coupled with stricter checks, here is why Credit 21's urgent loan stands out:
1. Those with poor credit scores can still apply
Individuals who do not have excellent credit scores seem to be stigmatized these days. At Credit 21, we understand that things happen in life, and your credit score can go down sometimes.
We are more lenient with our credit checks and will extend our loans to those with less than ideal credit scores. Ultimately, we aim to help as many individuals as possible resolve their financial emergencies in the shortest time possible.
2. Quick loan processing
At Credit 21, the process of applying for a loan is quick and takes a few minutes for approval. We have an online application system so that you can apply for an urgent loan anywhere, anytime. One can apply from the comfort of their homes, their office, or even when they are taking the bus.
3. Fast cash disbursement
 When it comes to urgent loans, the faster, the better. At Credit 21, we pride ourselves on providing our borrowers with one of the fastest urgent loans in the market. Once your loan has been approved, you will be able to receive your funds almost immediately.
What Should I Consider: Credit Cards Or Urgent Loans From Licensed Moneylenders?
Firstly, one should know that credit cards have very high interest rates. Your credit card debt can easily snowball and bring you more financial trouble.
You might be asking yourself why you should consider getting an urgent loan from moneylenders in Singapore. It sounds daunting and we have all heard of the horror stories of loan sharks.
The following are some reasons and benefits that are associated with emergency and instant loans.
1. Quick Approval
Getting approved for a loan is a painless and fast process. When you have a critical issue, you no longer have precious time to spare to look for the lowest rates or visit a traditional bank to negotiate terms and conditions and prices. At a licensed moneylender company such as Credit 21, you can easily and quickly fill out a form online and get your loan approved within an hour.
2. Credit Scores
It is not unusual for people to have poor credit and anyone can end up in this position. Moneylenders aim to give everyone the help they need rather than limiting their services to people who have high credit scores.
3. Low Interest Rates
Being subjected to exorbitant interest rates is one of the worst consequences of having bad credit. Credit cards in Singapore are known for their ridiculously high interest rates. Fall into the trap of credit card debt and your debt will easily snowball. It may even take years to repay a credit card debt because the interest charged is extremely high. You need a lot of time to repay. Instead, consider alternative lenders because they need help to get through their problems. These licensed moneylenders do not charge outrageously high interest rates. They provide reasonable interest rates that will not cause you to go bankrupt while you work out your finances.
4. Minimal Requirements
Moneylenders like Credit 21 understand that you are in a rush. As previously stated, they only require the necessary information. They do not want to know about when you started having children or expect you to go to the moon and back. The main requirements are proof of income that shows you will be able to pay the money back and you are good to go.
If you are in a tight spot now and need a loan to cover any emergency, moneylenders can help you in different ways.
Singapore boasts a robust money lending sector that is known for its fast loan approval and excellent customer service. If anything, licensed moneylenders in Singapore provide equal service compared to our local banks.
Applying for a loan gives you access to financial advisors who can help you pick the right loan.
What You Need To Know About Urgent Loans By Credit 21
When an unexpected expense requires fast cash, you may resort to an urgent loan. Qualifying for this type of loan may depend on your credit, and the costs can vary among lenders.
If you do not have enough savings to deal with an emergency, you may be wondering about the available options to address this unexpected expense. Here's when you can consider an urgent loan. With a simple and easy-to-fill online loan application form, you can get your money in a few hours*.
Whether your vehicle breaks down or you are battling a sudden illness, you may require extra cash to make it through the situation.
Urgent loans can be useful for several different reasons:
1. You can get your cash quickly
Urgent loans, as the name suggests mean that you will be able to get your cash quickly. Credit 21 offers unsecured urgent loans to both Singaporeans and foreigners.
Simply apply through our online application form and once your loan is approved, you will be able to get the money you need. This cash will help you solve your problems. Nonetheless, never rush into taking a loan. Research your options in advance and read the fine print during the process so that you can fully understand the choices you have.
2. Cheaper and more accessible
An urgent loan can help you overcome financial problems as a large percentage of consumers are unable to cover emergencies. Unsecured personal loans often come with lower rates for them to be more accessible.
3. Urgent loans can be used at your discretion
If you need a loan for an emergency, you can consider different options according to how much cash you want to borrow and how soon you need to get it. Unsecured personal loans are usually flexible in regards to how they can be used to take care of emergencies. You can use the cash from the urgent loan for any purpose.
Licensed moneylenders like Credit 21 provide that freedom to our borrowers where they do not need to declare what they are going to use the money for. Moreover, urgent loan interest rates are better than the ones of credit cards, with flexible loan repayment tenures that fit your schedule.
You can borrow a small or large amount according to how much you need for your emergency or unexpected expense.
Pro tip: Remember to only take out what you need and be able to pay it back.
Financial Emergencies Can Happen To Anyone, Anytime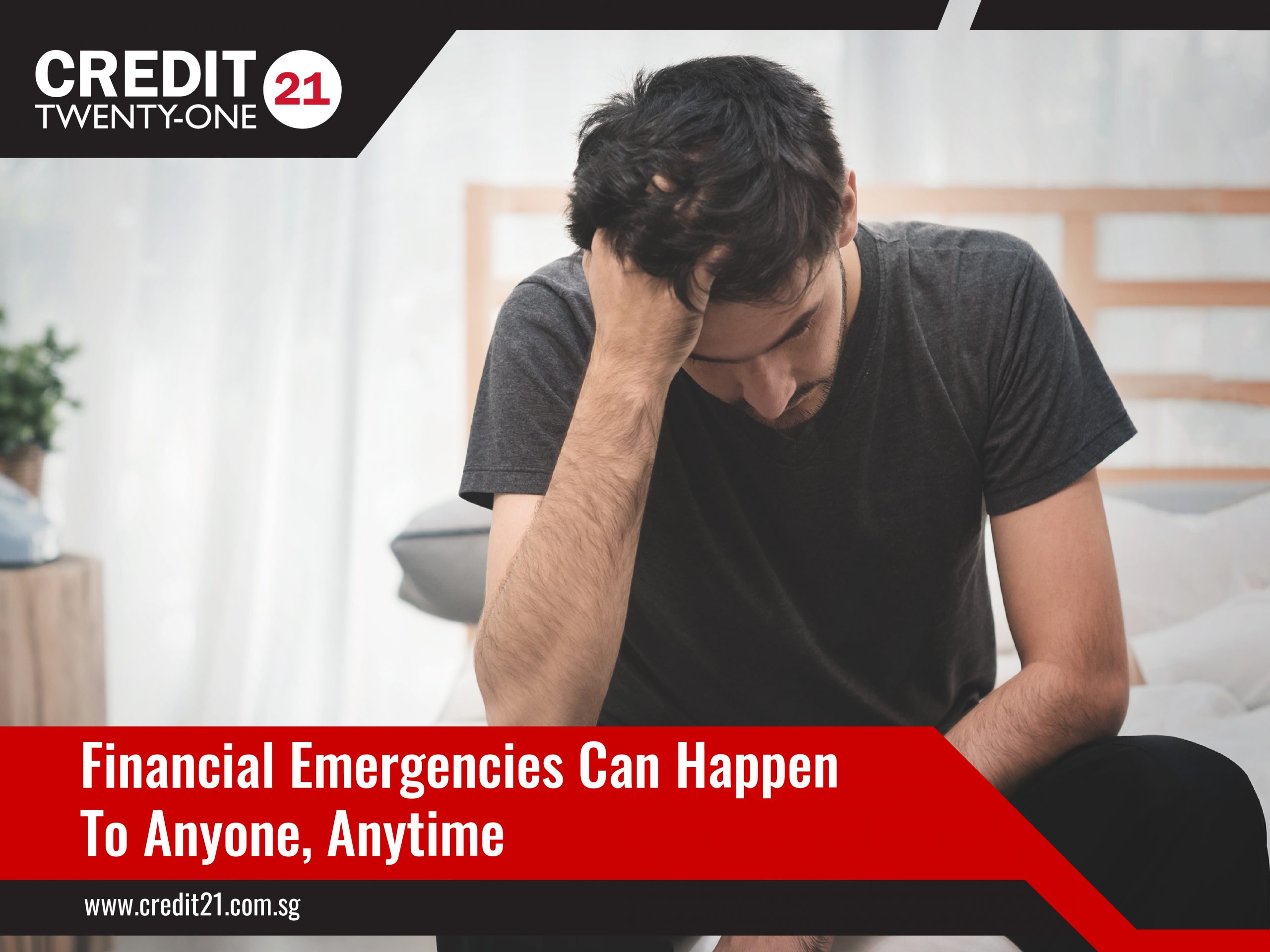 Life is unexpected and you never know when troubles will hit you. No one wants to end up with a financial emergency.
However, this can happen to anyone. If you require a loan quickly, think about getting an urgent loan. Make sure that you understand what it entails, the overall cost, and how the interest rate and fees can affect the price.
How To Choose The Best Urgent Loan
If you have an urgent situation, getting a loan fast is definitely your priority. The usual funding times range from hours to days. Some licensed moneylenders have an online loan application system to expedite the loan process. This shortens the loan application greatly from days to hours.
While speed might appear to be more important than the price of a loan, it is still important to compare annual percentage rates and fees from different lenders. Loans with low APRs are cheaper and typically a preferred choice as long as you can afford the monthly payments. You can use an online loan calculator to find out the monthly fees and interest costs of the loan.
Moneylender's Terms And Conditions. Along with the cost of the loan, think about features such as the payment options that are available. Some lenders enable you to pick the due date for payment, do not charge late fees, or let you skip payments when necessary while repaying the loan. Legal moneylenders might also offer financial help for education.
You can get cash for emergencies from different places. The ideal situation is to build up an emergency fund. However, if you do not have this type of fund, you may require an urgent loan.
An urgent loan might be your start to fixing your finances. There are solutions for finding cash when unfortunate circumstances strike. You should always educate yourself about the options that expose you to the lowest level of risk.
Getting An Urgent Loan In Singapore
Urgent loans continue to be popular types of loans. These loans are available for specified durations and are known as instant loans due to how rapidly available the funds are. If you are struggling financially or have bad credit, you can enjoy the benefits of an urgent loan. This option allows you to access the amount of cash that is necessary for an emergency. You have the option of no-check loans to cover your needs instantly.
1. Quick Loan Processing
An urgent loan is among the common ways for people to obtain some cash if there is an emergency. The loan essentially enables you to get specific amounts of money when your finances are dire and pay back the price along with interest. Some providers offer urgent loans to people who have bad credit, which is helpful when you miss a payment from time to time.
A quick loan application process is typically straightforward and swift. Because of this, an applicant can apply for the loan online, and the decision made instantly. Along with affordability and credit checks, applications are in a position to get the money on the same day.
In comparison to other financial solutions such as bank products, it may take several weeks for them to get back. A good example is how long it takes to even get a credit card from a bank. this timeframe is not suitable for an emergency. Other forms of finance like secured loans may also require further verification and funding can take many days or weeks.
2. Discretion
Urgent loans are discreet when compared to borrowing money from friends and family members that might talk about your situation. We never want to ruin our relationships with our friends and family. Getting an urgent loan means that there will be no need to approach a friend or family money for money but at the same time, you can solve your financial crisis.
3. Convenience
Most legal moneylenders that deal with urgent loans are available online. Application processes have increasingly become digital due to the sector gradually moving away from written and in-house applications. Therefore, applying for a loan does not require you to leave the house, office, or anywhere you may be at the moment, as long as you have an internet connection. Going about the process of getting a conventional loan usually means scheduling calls with loan officers or attending meetings.
Another benefit is that moneylenders such as Credit 21 are able to provide cash to their customers. We hardly provide cheques to borrowers as we understand that it takes time for cheques to be deposited into their bank accounts. Cash on the spot helps greatly.
4. A Better And Regulated Financial Industry
High fees and aggressive lenders have plagued the urgent loan industry for years, but the authorities (the Ministry of Law) have cleaned up the sector during an extensive crackdown. There are stringent rules that regulate how loans are introduced and provided to customers, which resulted in more reputable and responsible companies trading in the industry. Price caps within the sector have restricted charges to make sure that individuals do not end up repaying much more than what they have borrowed.
People looking for urgent loans can enjoy the peace of mind that comes with working with properly regulated companies that charge fair rates and keep customer's details safely.
An emergency loan is an option frequently used to get through a tight spot. These loans can end up being useful in various scenarios. Before using one, make sure that you understand the terms and costs.
It is ideal for individuals who need a quick dose of money before they get their next paycheck or when they do not have cash set aside for an unexpected expense. The purpose of an urgent loan is easy and fast money to handle both large and small emergencies in life.
You obtain these loans from reputable and licensed moneylenders that offer a range of financial services. Convenience and ease drive the popularity of urgent loans, and flexibility is one of the critical advantages that alternative lenders have over traditional lenders.
5. Bad Credit
Worry not if you have a bad credit score. Lenders that provide urgent loans rarely focus on your credit. Combined with the suitability and privacy of the process, this willingness to accommodate unfavorable credit scores makes instant loans desirable prospects to people who do not have good credit.
Additionally, the entire loan process is swift and easy. It can be completed within a few hours should all the required documents are provided. Along with applying at rapid speed, you get the money in virtually no time.
How To Apply For An Urgent Loan Quickly
Credit 21's urgent loan ensures that you will receive your funds in the shortest time possible. All you have to do is fill in our short online application form and our friendly loan consultants will be in contact with you within minutes!
Once contacted by them, all you have to do is to head down to our business premises and sign the loan contract. Once your loan has been approved, we will disburse the funds to you. 
The entire process only takes about an hour!
For some people, borrowing from friends or family is not a viable option. It is embarrassing and it spoils relationships. By borrowing from professional lending companies such as Credit 21, it means that you owe business entities money rather than someone who you know personally.
When people attempt to get credit from institutions like banks without a good credit score, their loan application will probably get declined. On the other hand, loan companies can also lend to individuals who have bad credit histories as long as they can afford the loan.
If you don't have a good credit score, banks might reject your credit application. Loan companies can lend you that money even if your credit is poor. So why not take advantage of this option, if you can afford to repay the loan?
Approach our friendly consultants today!