Credit 21 Licensed Money Lender is a legal and reputable money lending company in Singapore. We provide a variety of tailored financing solutions to those in need of quick and convenient cash.
Many people often encounter financial difficulties and are unable to access quick funds due to issues such as borrowing rules, bad credit history and long approval times. Here we are sensitive to the needs of our clients in getting fast access to emergency cash.
Our operations are regulated by the Registry of Moneylenders in Singapore. Our repayment plans and interest rates adhere to the standards set by Moneylenders Act and Rules. Therefore all our clients enjoy one of the best financial services provided in the city.
You can rely on us for transparency, fairness and convenience when it comes to quick financing. Our customer service team is ready to respond to all of your questions, and our online application can get you one-step closer to getting the financial assistance you need.
Why Choose Us?
Get quick cash – Banks often have lengthy application and approval steps, and it usually takes several weeks to a month before your loan is approved. With a simple application process and proof of identification, Credit 21 aim to get you the money you need within the shortest time possible.
You can use this money to pay off your rent, medical bills, replace damaged equipment, pay your tuition fees, among many other things. Not to worry, Credit 21 aligns our operations with the requirements of the Moneylenders Act and Moneylenders Rules.
Consolidate debt – We can help you improve your debt profile by consolidating your debt and funding a single payment. Rather than dealing with 5-8 loan companies, we can offer you a single loan to finance all your debts so you are left with one easy payment to make each month. This can greatly improve your credit score.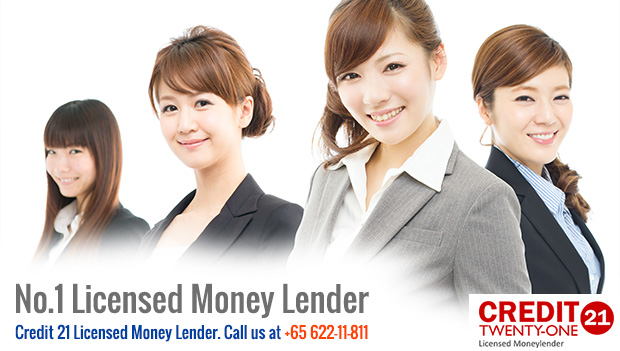 Maintain credibility with friends, family and colleagues – Most of the time when we encounter financial difficulties, we will turn to the ones closest to us for help. However, constantly borrowing money from friends, family or employers can lead to strained relationships. Let us handle your financial burden and keep it confidential so you can maintain a good relationship with those close to you.
Easy eligibility – We do not determine your ability to repay the loan based on your credit history, but on your current income. It does not matter how bad your credit history is. As long as you have a steady employment with proof of income, we can work out a payment plan that is within your reach.
In case you decide to reject the loan after approval, we are pleased to tell you that there will be no penalties, and you are free to borrow from us again in future. Trust us to deliver on our promises and give you the best.